TSV
(.tsv)
Import and Export fully support the TSV format and provide various data conversion and formatting options.
Import automatically recognizes common number formats, including C and Fortran notations.
Background & Context

MIME type:

text/tab-separated-values

TSV tabular data format.
Stores records of numerical and textual information as lines, using tab characters to separate fields.

TSV is an acronym for Tab-Separated Values.
Plain text format.
Similar to CSV.
Import & Export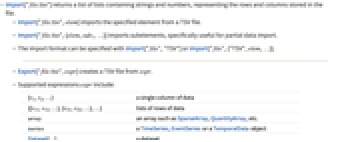 Import

[

"

file

.tsv"

]

returns a list of lists containing strings and numbers, representing the rows and columns stored in the file.
Import

[

"

file

.tsv"

,

elem

]

imports the specified element from a TSV file.
Import

[

"

file

.tsv"

,

{

elem

,

sub

1

,

…

}

]

imports subelements, specifically useful for partial data import.
Export

[

"

file

.tsv"

,

expr

]

creates a TSV file from

expr

.

{

v

1

,

v

2

,

…

}

a single column of data

{

{

v

11

,

v

12

,

…

}

,

{

v

21

,

v

22

,

…

}

,

…

}

lists of rows of data

array

an array such as SparseArray

,

QuantityArray

,

etc

tseries

a TimeSeries

,

EventSeries or a TemporalData object
Dataset

[

…

]

a dataset
Import Elements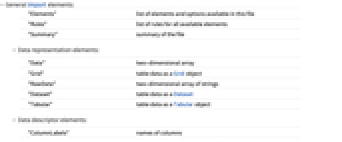 General Import elements:

| | | |
| --- | --- | --- |
| | "Elements" | list of elements and options available in this file |
| | "Rules" | list of rules for all available elements |
| | "Summary" | summary of the file |

| | | |
| --- | --- | --- |
| | "Data" | two-dimensional array |
| | "Grid" | table data as a Grid object |
| | "RawData" | two-dimensional array of strings |
| | "Dataset" | table data as a Dataset |

For partial data import, any data representation element

elem

can take row and column specifications in the form

{

elem

,

rows

,

cols

}

, where

rows

and

cols

can be any of the following:

n

n

th row or column
-

n

counts from the end

n

;;

m

from

n

through

m

n

;;

m

;;

s

from

n

through

m

with steps of

s

{

n

1

,

n

2

,

…

}

specific rows or columns

n

i
Examples
open all
close all