TeX
(.tex)
Export creates files compatible with AMS-LaTeX.
See the "LaTeX" reference page for complete information about importing TeX documents.
Background & Context

MIME type:

application/x-tex

TeX typesetting system and programming language.
Commonly used for typesetting mathematical and scientific publications and other technical documents.

Plain text format.
Describes the contents and the layout of multipage documents.
Developed since 1977 by Donald Knuth.
Export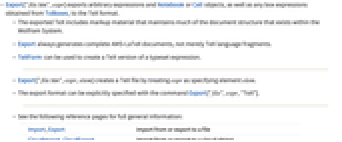 Export

[

"

file

.tex"

,

expr

]

exports arbitrary expressions and Notebook or Cell objects, as well as any box expressions obtained from ToBoxes, to the TeX format.
The exported TeX includes markup material that maintains much of the document structure that exists within the Wolfram System.
Export always generates complete AMS-LaTeX documents, not merely TeX language fragments.
TeXForm can be used to create a TeX version of a typeset expression.
Export

[

"

file

.tex"

,

expr

,

elem

]

creates a TeX file by treating

expr

as specifying element

elem

.
The export format can be explicitly specified with the command Export

[

"

file

"

,

expr

,

"TeX"

]

.
Import Elements

Options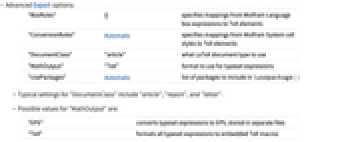 Examples
Basic Examples
(6)
Export an arbitrary expression to TeX:
This converts a Cell expression to TeX:
Specify "ConversionRules" for the translation of a Wolfram System style element to a user-defined TeX macro:
Create a numbered equation using the "ConversionRules" option:
Convert typeset expressions to EPS, stored in separate files:
Use the "BoxRules" option to customize how Wolfram Language boxes are translated to TeX: