WebP
(.webp)

Background & Context

Registered MIME type:

image/webp

WebP raster image format.
Binary format.
Stores both static and animated images.

Stores color bitmaps at a resolution of 8 bits per channel.
Supports alpha channels.
Introduced in 2010 by Google to provide both lossy and lossless compression of images on the web.
Import & Export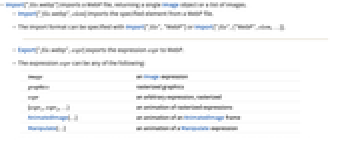 Import

[

"

file

.webp"

,

elem

]

imports the specified element from a WebP file.
Export

[

"

file

.webp"

,

expr

]

exports the expression

expr

to WebP.
When exporting graphics or arbitrary expressions, the resulting image has the same raster size as its displayed form.
Import Elements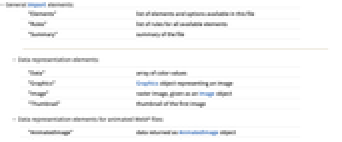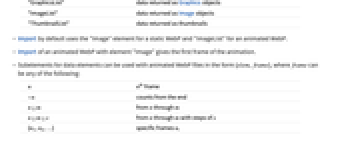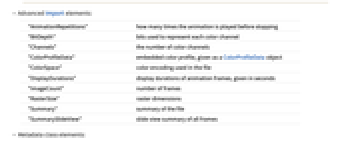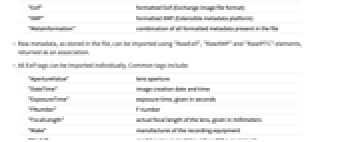 General Import elements:

| | | |
| --- | --- | --- |
| | "Elements" | list of elements and options available in this file |
| | "Rules" | list of rules for all available elements |
| | "Summary" | summary of the file |

"Data"

array of color values

"Graphics"
Graphics object representing an image
"Image"
raster image

,

given as an Image object
"Thumbnail"

thumbnail of the first image

| | | |
| --- | --- | --- |
| | "AnimatedImage" | data returned as AnimatedImage object |
| | "GraphicsList" | data returned as Graphics objects |
| | "ImageList" | data returned as Image objects |
| | "ThumbnailList" | data returned as thumbnails |

Import by default uses the

"Image"

element for a static WebP and

"ImageList"

for an animated WebP.
Import of an animated WebP with element

"Image"

gives the first frame of the animation.
Subelements for data elements can be used with animated WebP files in the form

{

elem

,

frame

}

, where

frame

can be any of the following:

n

n

th frame
-

n

counts from the end

n

;;

m

from

n

through

m

n

;;

m

;;

s

from

n

through

m

with steps of

s

{

n

1

,

n

2

,

…

}

specific frames

n

i

Advanced Import elements:

"AnimationRepetitions"

how many times the animation is played before stopping

"BitDepth"

bits used to represent each color channel

"Channels"

the number of color channels

"ColorProfileData"
embedded color profile

,

given as a ColorProfileData object
"ColorSpace"

color encoding used in the file

"DisplayDurations"
display durations of animation frames

,

given in seconds
"ImageCount"

number of frames

"RasterSize"

raster dimensions

"Summary"

summary of the file

"SummarySlideView"

slide view summary of all frames

"Exif"
formatted Exif

(

Exchange image file format

)

"XMP"
formatted XMP

(

Extensible metadata platform

)

"MetaInformation"

combination of all formatted metadata present in the file

Raw metadata, as stored in the file, can be imported using

"RawExif"

,

"RawXMP"

and

"RawIPTC"

elements, returned as an association.

"ApertureValue"

lens aperture

"DateTime"

image creation date and time

"ExposureTime"
exposure time

,

given in seconds
"FNumber"

F number

"FocalLength"
actual focal length of the lens

,

given in millimeters
"Make"

manufacturer of the recording equipment

"Model"

model name or model number of the equipment

"Software"

name and version of the software or firmware of the camera or image input device used to generate the image

| | | |
| --- | --- | --- |
| | "CameraTopOrientation" | orientation of the camera when the picture was taken |
| | "FlashUsed" | whether the flash was fired |
| | "GeoPosition" | latitude and longitude represented as GeoPosition object |
| | "GPSDateTime" | image creation date and time registered by GPS |
Options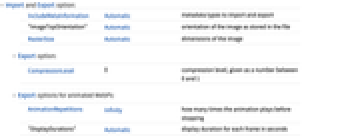 Examples
open all
close all